Artwork Requirements
Acceptable File Formats
Our in-house artists will review your artwork once it has been submitted to ensure the best possible print. If your art or logo require vectorization additional charges may apply.
Vector Graphics
Be sure to include any fonts or outline text in your files before sending. Vector graphics use geometrical primitives such as points, lines, curves, and shapes or polygon(s), which are all based on mathematical expressions, to represent images.
Vector File Formats*
Adobe Illustrator [.ai, .eps, .pdf]
Corel Draw [.eps]
Inkscape [.svg]
* although these formats can contain vector art, they are capable of having pixel art embedded within them which may require art-recreation.
Pixel Art / Photographs
Pixel art can only be printed digitally and a minimum of 150 dpi and the exact size wanted on table cover, banner, etc. is required. Please note that many of our products require vector graphics for printing; if this is the case, vectorization charges may apply. Pixel art is a form of digital art, created through the use of raster graphics software, where images are edited on the pixel level. Photographs are an example of pixel art.
Pixel Art Formats
Adobe Photoshop [.jpg, .png, .tiff, .bmp, .gif, .pdf]
Do not flatten layers; send original files with layers intact if possible.
Banner Artwork
Banner artwork that is not vector format needs to be at least150 dpi and the exact size of the banner (For an example, 33.5"W x 80"H). Please note that any graphics smaller than 150dpi will need to be either re-created with a possible art change or will be pixelated when printed.
Pixel Art Formats
Adobe Photoshop [.jpg, .png, .tiff, .bmp, .gif, .pdf]
Do not flatten layers; send original files with layers intact if possible.
Sending Artwork
If you are compressing your files, please do not send .sit or .sitx files. Instead compress them into a .zip or .7z using the free and open source 7-zip software.
< 25MB: email to art@logoexpressions.com
Up to 1GB: Upload Here (call 1-877-603-5646 for access)
> 1GB: Send via dropbox, google drive, wetransfer, or other cloud storage service to the email address art@logoexpressions.com
We also accept physical media (USB Drive, Hard Drive, CD-RW, zip disk etc.) however this method may result in delaying your order.
Raster vs Vector Art
Raster graphics are made up of thousands of pixels or dots and are limited to the Dots Per Inch (DPI) or Pixels Per Inch (PPI) that they were created in. Vector artwork is made up of mathematical curves and can be resized to any physical print size. Below is an example showing the difference between vector and raster graphics.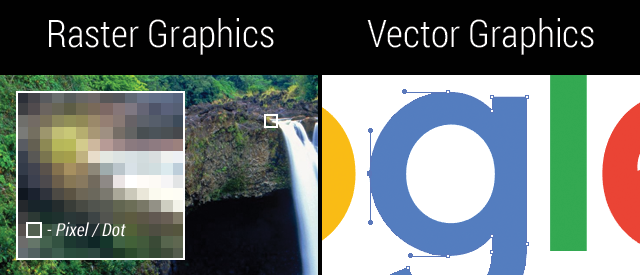 Vectorization and Art Re-creation
If your artwork requires vectorization/re-creation an additional charge may apply depending upon the complexity of your artwork.
This may apply to your art if: